We're Passionate About Our Community
Welcome to The Eldritch Press, a micro-publisher focused on creating content for tabletop role playing games. We craft polished, professional products that are refreshing and fun for GMs and players alike. Content from The Eldritch Press gives you professional material that is playtested and presented in an understandable and streamlined format. Our material is craft-brewed and we take pride in what we do. Like a craftsperson, we have spent years perfecting our art and only produce products that meet our high standards for quality, design, and balance.
THE FOUNDING of the eldritch press
Fletcher Haug and Guy Corey are the founders of The Eldritch Press. Fletcher discovered Dungeon & Dragons in 1978 and has created and played in campaigns with scores of diverse players through every edition of the game. Guy has an education in game development and a history as a video game junkie. He was blown away after his first game of tabletop D&D. He digests every shred of information about the game he can, yet he still hungers for more. Into the creative constructs of this duo a digital artist and illustrator wandered aimlessly and unaware of the deep magic underfoot. He is now the Art Director and Principle Illustrator at The Eldritch Press. This cabal forms the luminant triumvirate who craftbrew their products with great care. After the process ferments and matures, these three use mind manipulation to draw in others who toil to tweak and playtest the contours of their projects. Beware, lest you too become ensnared in the depths of this ecstatic magic.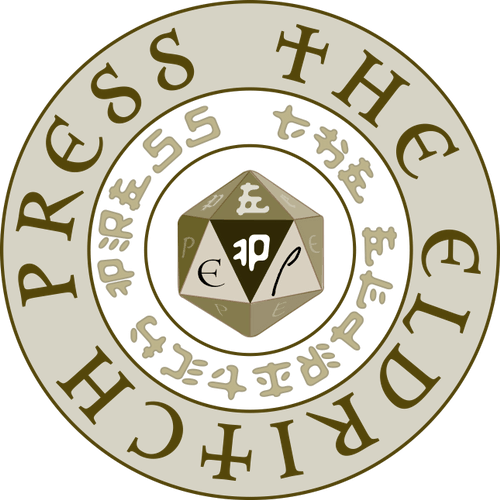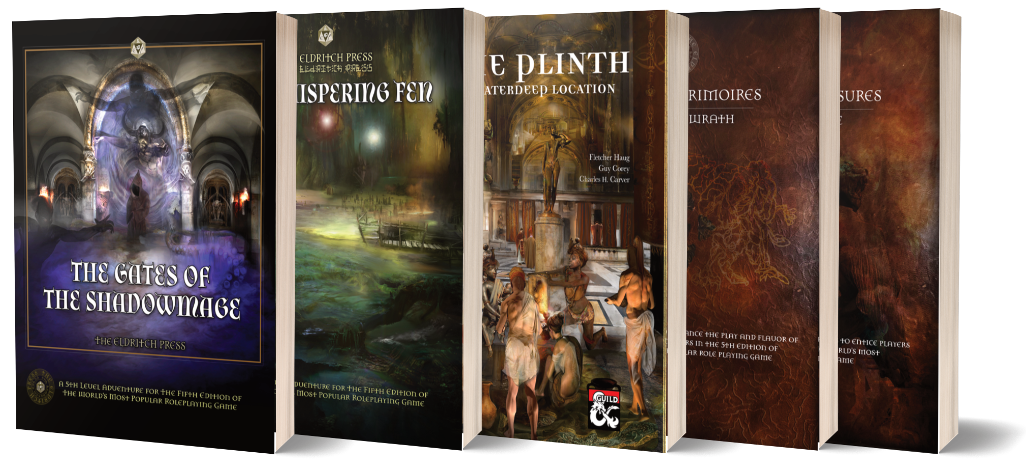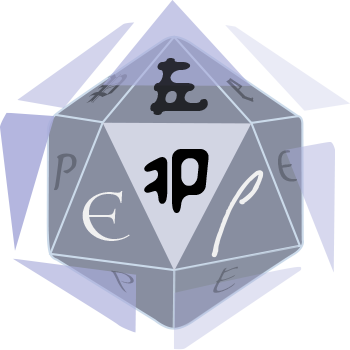 Fletcher Haug
Fletcher is a master GM and a highly effective conductor of creativity. It is his job to germinate a population of gaming narratives and to select scenarios to orchestrate through the process of actualization.
Fletcher discovered D&D in 1978. He created and played in campaigns through every edition of the game with scores of different players. In 1996 he was the publisher and editor-in-chief of a computer magazine called the Amiga Informer. He was the contributing editor of Amazing Computing magazine from 1999-2000 and then became the editor of a digital magazine for Amiga Inc. called AmigaWorld. He currently locks himself in his dungeon studio, playing D&D, and pouring over reams of past campaign notes to gather and brew new game content.
Guy Corey
Guy is the robust connoisseur and grounding element behind the products that The Eldritch Press makes manifest. His mastery of game mechanics and balance allows players to remain creative, and for Eldritch products to remain fresh and enticing.
Guy's mastery of game mechanics and balance allows players to remain creative, and for Eldritch products to remain fresh and enticing. Guy's role as a scrupulous adventure designer is to contribute the selective constraints that serve to control, anticipate and guide an otherwise unruly population of possible scenarios into an inviting set of flexible player options. This allows players to remain creative, and for Eldritch adventures to remain captivating. 
Charles H. Carver
Charlie is an award-winning digital artist and photographer. His unique style seeks to invite players into the creative act of image creation as opposed to simply representing adventure characters or environments.
Charles' work mirrors Eldritch's unique source of magic in that his productions stand in two worlds. In the same way that Eldritch adventures are flexible enough to be at home in both a virtual and a physical environment, Charles' work is designed to be at once entered as a virtual realm and investigated in its physical form as a work of art, whether that be an archival print or simply a composition that retains the manual traces of digital brushwork or a sketch-like craftsmanship.
Wilberto Burgos
Wilberto brings a combination of design and professionalism to his work. Mixing styles with service is the goal that takes the refreshing feel of his work beyond the norm.
With over ten years in the direct marketing industry and twenty years in the web development space, Wilberto has used his knowledge and experience to take multiple companies to new heights as CMO, Marketing Consultant, and Director of Marketing, to name a few.